Bitcoin is shooting higher as global markets drive higher as the U.S. dollar dips lower.
The price of the leading cryptocurrency hit $12,000 on Tuesday.
While a rejection was had at that pivotal resistance level, which has been a level to watch, analysts remain bullish.
One analyst that remains optimistic cites an eerie market fractal that predicts a move to $13,000 is likely.
This fractal predicts that Bitcoin will enter a near-vertical rally in the coming two to three days.
This price rally should take BTC higher by over 9%, per the fractal analysis.
This Bitcoin Fractal Is Suggesting a Breakout Is Near
In technical analysis terms, a fractal is when an asset's price action is repeated or echoed on another time frame or with another asset. As Investopedia puts it, "Fractals also refer to a recurring pattern that occurs amid larger more chaotic price movements."
One analyst recently identified that Bitcoin may be trading in an eerie fractal of the consolidation pattern of May to July. Both periods, the May to July consolidation and the ongoing consolidation since the start of August, have extremely similar price trends: a vertical uptrend, an ascending triangle consolidation, a fake wick to the upside, and a secondary true breakout.
According to this fractal analysis, Bitcoin is in the final phase of the fractal. The final phase of the fractal is when BTC sees a vertical rally.
The analysis suggests that Bitcoin will soon move around 9% higher to $13,000, which would satisfy the fractal.
This breakout can be corroborated by the four-hour relative strength index, which has broken above a pivotal resistance level in the near term. This breakout suggests that bulls are in control, which is especially relevant after the recent correction.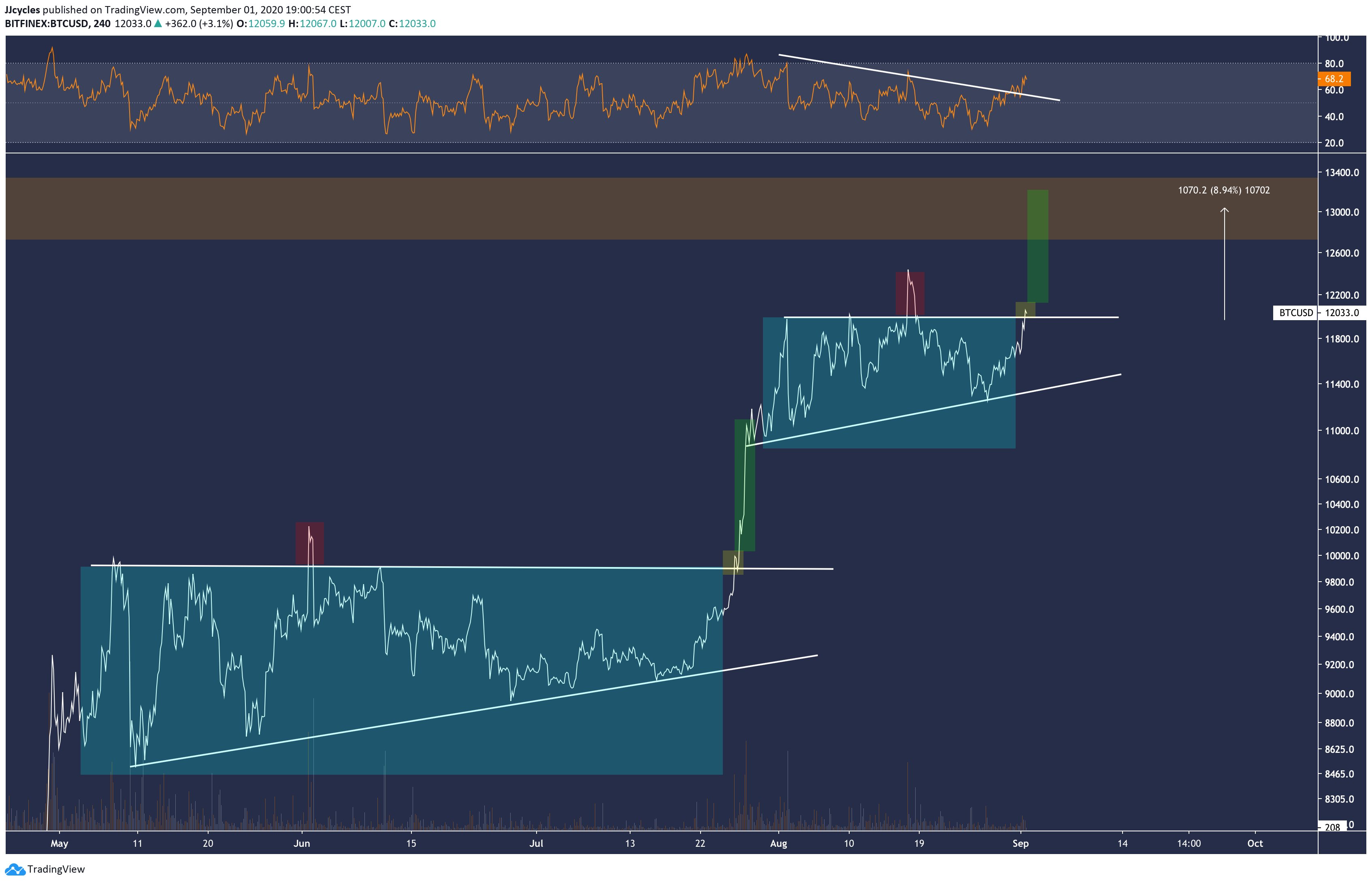 Chart of Bitcoin's recent price action (over the past few months) with a fractal analysis by crypto trader "JJcycles" (@JJcycles on Twitter). Chart from TradingView.com
There are other technical factors pointing to an imminent move to $13,000. As reported by Bitcoinist, one commentator noted that a confluence of indicators and technical levels suggest that bulls are likely to drive price action.
Market Poised to Move Higher Due to Fundamentals
There are fundamentals suggesting Bitcoin will move higher in the weeks and months ahead. Brendan Blumer, co-founder of Block.one, recently remarked:
"#Gold will perform, but only fractionally as well as #Bitcoin as people continue to understand and prefer it's inclusive, fair, finite, publicly-verifiable, and self-custodial characteristics. The new generation has already chosen #BTC, and that puts it on the right side of time."
Others have noted that the vast amount of money printing will drive capital to BTC over time.
Photo by Dominik Martin on Unsplash
Price tags: xbtusd, btcusdt, btcusd
Charts from TradingView.com
This BTC Fractal Predicts a Move to $13,000 Is Imminent