Bitcoin has undergone a strong correction, falling around 20% from its year-to-date highs over the past few weeks.
Analysts are divided over what comes next for the cryptocurrency.
Many say that Bitcoin is poised to correct because the U.S. dollar has found support and is bouncing.
A technical analysis by a historically accurate trader corroborates this expectation.
While he did not explain a concrete scenario, he suggested that BTC could continue to slide lower until the end of 2020.
This may actually be bullish as it would set Bitcoin up for a strong bounce, then a continuation to the upside.
Bitcoin Could "Grind" Lower Into End of 2020: Here's Why an Analyst Thinks So
Bitcoin may be primed to move towards the $9,000s, then $8,000s as we move into the end of the year according to an analyst. The analyst shared the chart seen below after BTC's correction, noting that the macro resistance could act as support for an extended consolidation pattern:
"What if the major line of resistance first identified here [first chart above] became a rough line of support for price to grind down slowly over the course of the fourth quarter to meet the log growth curve? This would set up perfectly for the run up going forward…"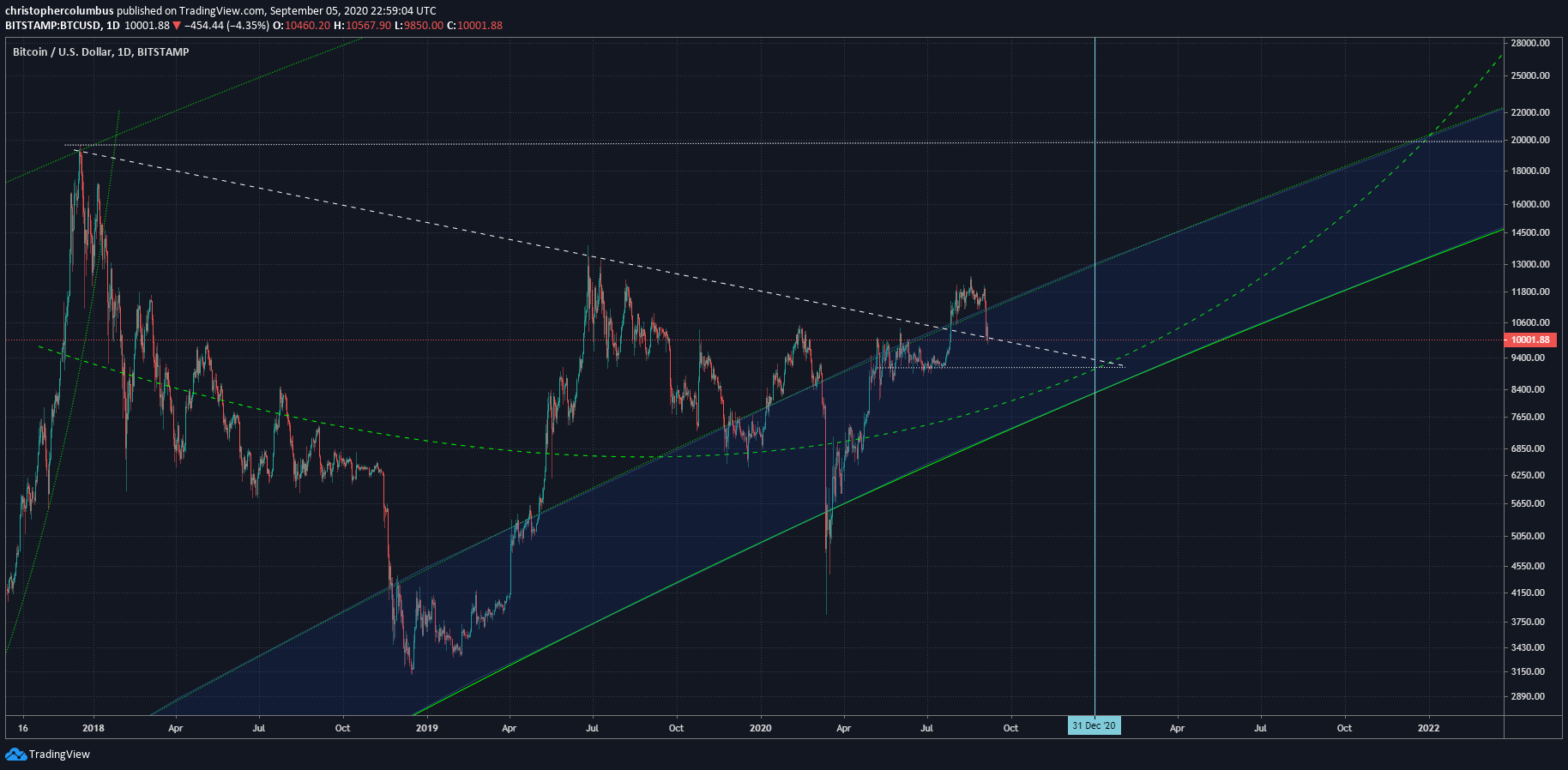 Chart of BTC's price action over the past few years from TradingView.com
The trader that made this prediction has been historically accurate with his calls.
Prior to the ongoing drop, he began to note that the Bitcoin market was overheated and needed to consolidate to tamper expectations. And in 2019, he predicted that the bear market would bottom at the $6,400 price point literal months before it actually did at the end of the year.
Bitcoin Remains in a Good Long-Term Position
Analysts think that even if BTC sustains a correction, it remains in a good spot from a longer-term time frame perspective.
Arthur Hayes, the CEO of BitMEX, recently commented on Bitcoin's potential in the ongoing macroeconomic environment:
"The financial markets are going to whipsaw as politicians contort themselves to continue feeding at the trough. This unfortunately will have lasting effects on everyone's lives across the globe. Out of the chaos, more people will mistrust centralised authority and look for ways to protect their physical persons and capital from the wanton destruction waged upon them by their rulers. My pocket rockets are primed and ready. 加油 Gold and Bitcoin."
Others have echoed this sentiment, including Mike Novogratz, Raoul Pal, Dan Tapiero and other investors in the industry. They believe that the comments from Jerome Powell of the Federal Reserve cement BTC's growth potential.
Photo by Sergio Capuzzimati on Unsplash
Price tags: xbtusd, btcusd, btcusdt
Charts from TradingView.com
This Historically Accurate Analyst Thinks This Is Next for Bitcoin