Bitcoin is showing some intense signs of strength today, with the cryptocurrency's price rallying towards its recent highs of $10,500 while the aggregated market also sees some strong momentum.
Because BTC has yet to break above $10,500, its near-term outlook still remains somewhat unclear.
However, a continuous show of strength could be enough to boost it higher, with a firm break above this level potentially sending it rocketing significantly higher in the days and weeks ahead.
Ethereum's ongoing break above $380 may also create a tailwind that helps lift the entire market higher in the near-term.
One analyst is noting that this latest swing higher came about after Bitcoin reclaimed a key technical support level. This may continue bolstering its price action.
Another analyst is observing that while the number of long positions on platforms like OKEx is declining, the platform's top traders are rapidly moving to gain long exposure.
This shows that more savvy traders are beginning to flip long on the market.
Bitcoin Shows Signs of Strength After Climbing Back into its Cloud
At the time of writing, Bitcoin is trading up just under 1% at its current price of $10,470. This is just a hair below its key near-term resistance of $10,500, which has been suppressing its price action throughout the past few weeks.
One analyst explained that this strength appears to have coincided with the benchmark cryptocurrency reclaiming the lower boundary of its cloud formation, which may help propel it higher in the near-term.
"Back in the cloud, bulls can chill till further notice," he said.
Image Courtesy of Teddy. Chart via TradingView.
The strong support that bulls have been defending throughout the past few weeks between $9,900 and $10,000 may also be contributing to the present strength of bulls.
Analyst: Smart Money is Flipping Long on BTC 
In general, traders on OKEx are flipping short on Bitcoin, with the exchange's global long count trending lower throughout the past day.
Concurrently, however, the long count of top traders on the platform is beginning to spike higher, which signals that "smart money" is going long on BTC while normal traders remain cautious. One analyst is looking towards this as a bull-favoring sign.
"Global OkeX longs going down, but the top OkeX traders' longs are going up. Read: plebs bearish, big boys bullish."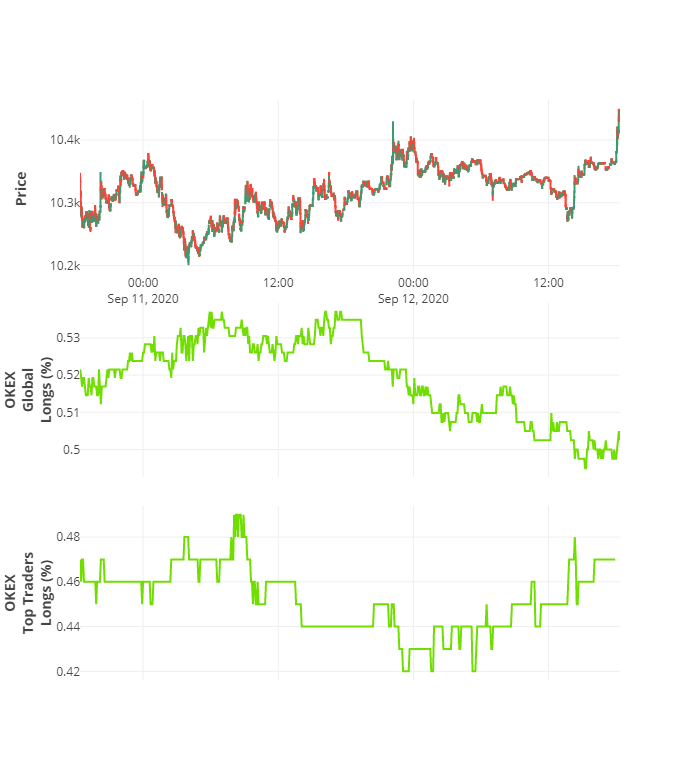 Image Courtesy of Byzantine General.
Because there is a confluence of factors that seems to be bolstering Bitcoin at the moment, there's a high likelihood that the coming few days remain bullish for BTC.
Featured image from Unsplash.
Charts from TradingView.