MicroStrategy CEO Michael Saylor has directly addressed concerns that he will dump Bitcoin at the first opportunity.
In a tweet sent yesterday, Saylor sought to reassure the Bitcoin community by saying he is in it for the long term.
There is no truth to the stories currently circulating that speculate "he would not hesitate to dump MicroStrategy's 38,250 Bitcoin (BTC) at a moment's notice if an alternative asset's yields were to jump." This is creative journalism.

— Michael Saylor (@michael_saylor) September 23, 2020
Saylor was reacting to a Bloomberg article, that other publications have also quoted, in which it's alleged he would dump his BTC holdings if bond yields jumped.
"Even so, Saylor said he's not a crypto diehard. If bond yields jump, for instance, he said he won't hesitate to dump the cryptocurrency, though he has no immediate plans to sell."
The article also gave a number of extracts which portray a level of indifference towards this action.
"We can liquidate it any day of the week, any hour of the day."

"If I needed to liquidate $200 million of Bitcoin, I believe I could do it on a Saturday. If I took a haircut, I believe it would be 2%."
In response, Saylor lashed out at those reporting the story, claiming they were intentionally misleading the public.
MicroStrategy Blazes Trail as The First Public Listed Company to Hold Bitcoin
Last month, Saylor hit the headlines by announcing his firm, MicroStrategy, had revised its treasury policy to include Bitcoin purchases.
To date, using company cash reserves, MicroStrategy has acquired 38,250 Bitcoin at an aggregate purchase price of $425 million.
MicroStrategy became the first public listed company to adopt such a policy. Many believe this will lead to a cascade of other firms following suit.
What's more, @100trillionUSD pointed out that a government ban on Bitcoin is even more unlikely following this.
Most people think a government ban is the biggest risk to bitcoin. But with MicroStrategy now having a third of it's market cap in bitcoin, do you really think governments will tank stock markets? Risk of ban will get smaller and smaller when more listed companies follow MSTR. pic.twitter.com/xEg0EDOgYA

— PlanB (@100trillionUSD) September 16, 2020
All the same, this is a strategy that continues to divide opinion, especially during a time when Bitcoin and the wider crypto markets are deep in the red. However, Saylor explained his actions by saying cash is no longer king.
Speaking with Anthony Pompliano on why he turned to Bitcoin, Saylor spoke about the threat of inflation, to which holding cash during these times makes little sense.
"First I have a mega, mega, mega problem, and the problem is I have a lot of cash and I'm watching it melt away… [On investors] they're smarter than I am, I'm not joking, I'm being serious, they are smarter than I am. They knew before I knew that cash is trash, and you're a fool to sit on the cash."
Diving deeper, Saylor admitted that he had previously discounted Bitcoin. But the events of the past few months have turned everything on its head. With that, he was forced to reconsider it, along with other wealth preservation strategies.
Having considered commercial real estate, tech stocks, and precious metals as inflationary hedges, Saylor turned to Bitcoin as he believes it best solves the problems laid out by these testing times.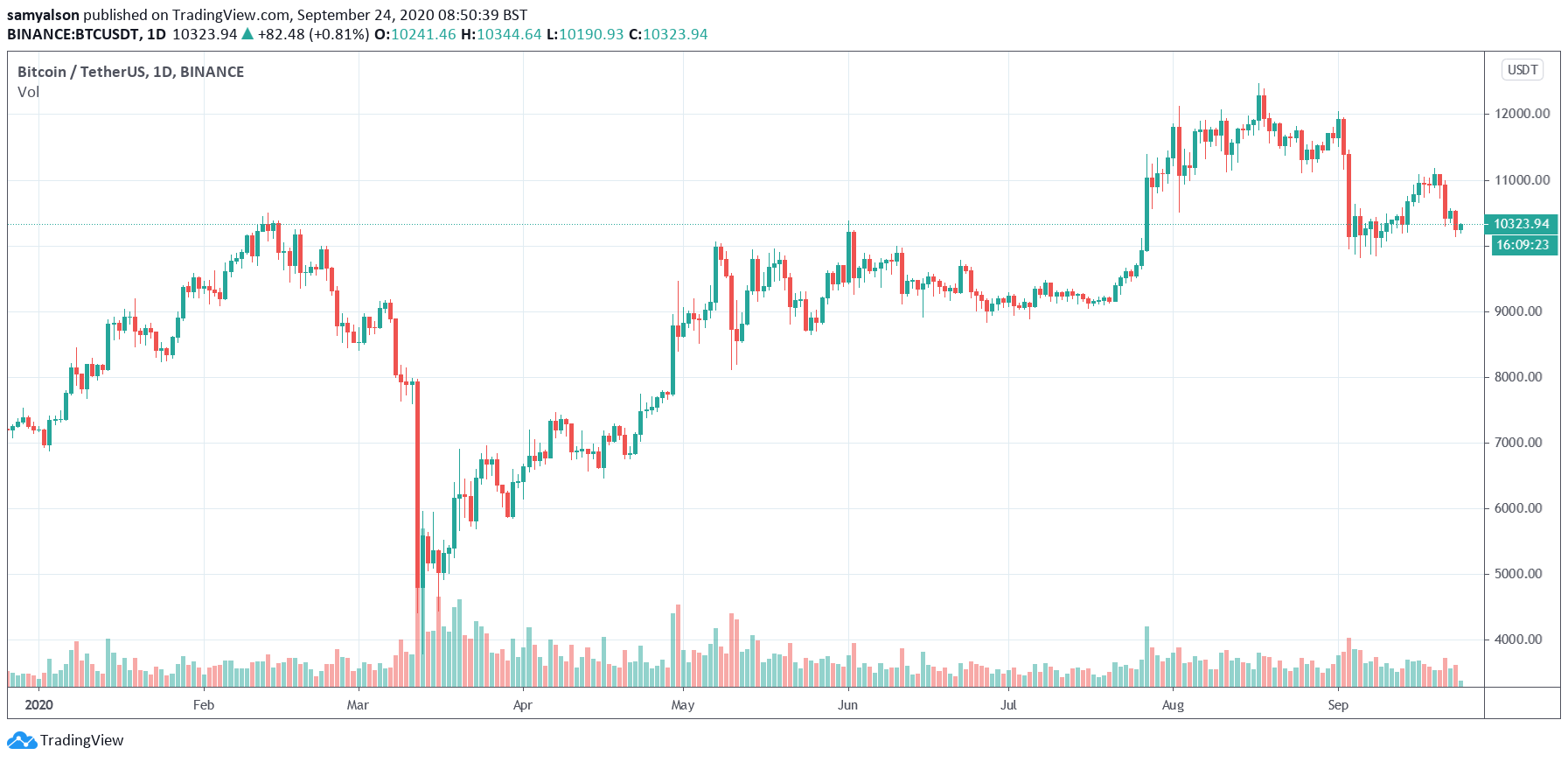 Bitcoin daily chart YTD with volume. (Source: BTCUSDT on TradingView.com)