Bitcoin is not welcome in Russia. The Central Bank of Russia, this year, put in place legislation that bans the issuance and circulation of cryptocurrencies.
But officials in the country accept that an outright ban is unenforceable. Speaking on the country's Digital Assets Bill, Alexey Guznov, the Director of the Bank of Russia's Legal Department said:
"Nobody is going to ban owning cryptocurrencies… [people will not be punished for owning crypto] if they made their deal in a jurisdiction that does not prohibit that."
Russian lawmakers hold firm that the rouble should be the only legal means to transact in the country.
Russia Revises Legislation to Criminalize Non-Disclosure of Bitcoin Activity
Things took a turn for the worse yesterday as Russian newspaper Kommersant reported that authorities are looking to ramp up restrictions on Bitcoin and other cryptocurrencies.
Russia's Ministry of Finance has issued proposals to revise legislation regarding the circulation of cryptocurrency. This relates primarily to the duty of users to declare their cryptocurrency activity, including details on all wallets held.
Ministers are meeting this week to discuss the proposals. If ratified, changes to the Criminal Code, Criminal Procedure Code, Administrative Code, Tax Code, and money laundering legislation will be put in place.
More specifically, lawmakers want to know if citizens have received more than 100,000 roubles ($1.3k) of cryptocurrency in a calendar year. If so, relevant persons must inform the tax office by declaring it on their tax return.
If the legislative amendments go through, the inclusion period will be for 2020 going forward. Therefore, individuals should declare their crypto activity by the end of the Russian tax year on April 30, 2021.
"For failure to report to the tax authority, you can receive a fine of 30% of crypto assets, but not less than 50 thousand rubles."
But non-declaration of a crypto wallet, which has turned over more than 1 million roubles ($13k) in a year, will be classed as a criminal offense punishable by up to three years in prison.
Anatoly Knyazev, the Co-founder of investment firm Exante, opposes the penalities. He believes they are wholly disproportionate to the offense.

The proposals also seek to govern crypto companies, such as exchanges. The Kommersant reports that they must submit quarterly reports to the tax authorities.
The Community Reacts
The Bitcoin community has reacted defiantly to the reports.
While many take the view that these are the actions of a legacy system on its last legs, the overall concern centers around tougher tax legislation coming to their respective country.
It's a matter of time. Everyone has to declare their Crypto wallets

— ArtetaBall (@mma0604) September 24, 2020
However, one Twitter user sympathized by implying we all have a duty to pay our taxes. What's more, if US authorities implement similar legislation, it's likely to be enforced only with fines, rather than imprisonment for the most serious cases.
Others point out that privacy coins have never been as important to personal liberty as they are right now.
With that, Bitcoin remained unphased by the announcement, even seeing a move back above $10.5k.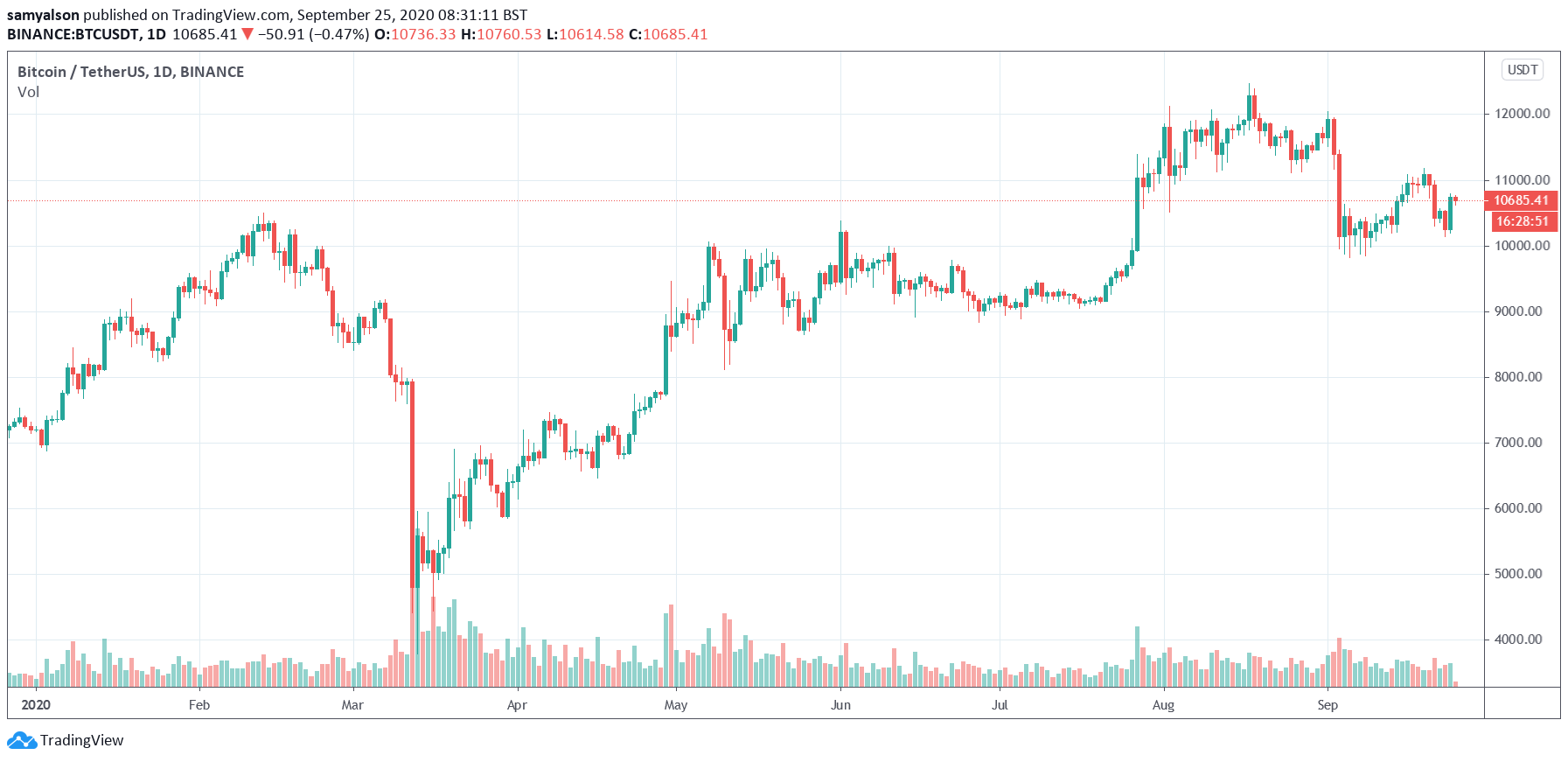 Bitcoin YTD daily chart with volume. (Source: tradingview.com)