For the past few months, Bitcoin's price action has largely been beholden to legacy markets like the S&P 500, the U.S. dollar index, and gold. The cryptocurrency has crashed and surge intandem with these markets, suggesting it is not uncorrelated as many once said.
While this may be true in the short term, analysts think that the markets will decouple eventually.
Bitcoin Is Primed to Decouple From the S&P 500, Top Analyst Says
Willy Woo, a prominent on-chain analyst, has recently been one of the most prominent commentators on Twitter saying the correlation will break. He recently stated that BTC will do so as its internal adoption curve will allow it to outpace the S&P 500 and other legacy markets.
Woo shared the chart below on September 26th, which suggests that Bitcoin has seen a strong surge in active users. This trend, he suggests, could drive BTC higher.
"If you want to see data behind the upcoming decoupling of BTC from the stock markets powered by BTC's internal adoption, here's some @glassnode data. This is the active users of BTC after filtering for unique players (ignores multi wallet addresses belong to one entity)."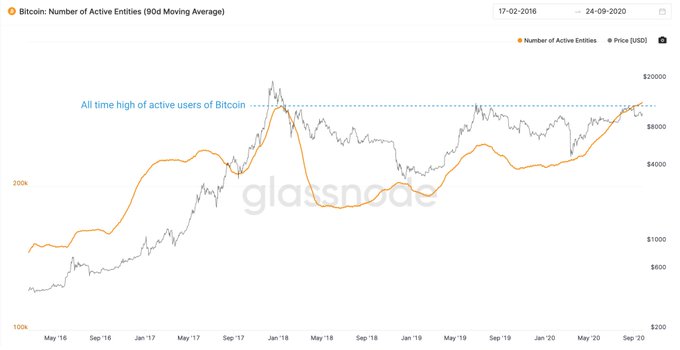 Chart of BTC's price action over the past few years with a number of active users of the Bitcoin network analysis by crypto research firm Glassnode.
Chart shared by Willy Woo, an on-chain analyst.
Not the Only One That Thinks So
Raoul Pal, CEO of Real Vision, also sees this decoupling incoming.
The Wall Street veteran, formerly the head of Goldman Sachs' hedge fund sales group in Europecently commented that he thinks Bitcoin may be the only asset to own at the moment due to its fundamentals and technicals:
"In fact, only one asset has offset the growth of the G4 balance sheet. Its not stocks, not bonds, not commodities, not credit, not precious metals, not miners. Only one asset massively outperformed over almost any time horizon: Yup, Bitcoin. My conviction levels in bitcoin rise every day. Im already irresponsibly long. I am now thinking it may not be even worth owning any other asset as a long-term asset allocation, but that's a story for another day (I'm still thinking through this)."
Pal has previously explained that he sees Bitcoin's price action reaching $100,000 and beyond in this market cycle. The investor has also previously said that Bitcoin and crypto-assets will likely begin to replace traditional financial venues.
Photo by Nick Hillier on Unsplashe, r
Price tags: xbtusd, btcusd, btcusdt
Charts from TradingView.com
On-Chain Data Shows Bitcoin's Decoupling From S&P 500 Is "Upcoming"