Bitcoin is expected to soon see a strong breakout as the price action of the cryptocurrency tightens after the news that the U.S. CFTC is charging BitMEX.
Bitcoin Primed to Break Out, Technical Trends Show
Bitcoin's price action has undergone extreme tightening over the past few days as the markets have become extremely indecisive. Three technical trends indicate that the cryptocurrency is primed to undergo a strong breakout, a crypto trader said. They are as follows:
Bitcoin is in a symmetrical triangle formation, and it has reached the apex of the triangle. This suggests that it will soon see a strong breakout.
Bitcoin's market volume is declining, suggesting a breakout will happen soon.
The width of the one-hour Bollinger Bands is getting tighter.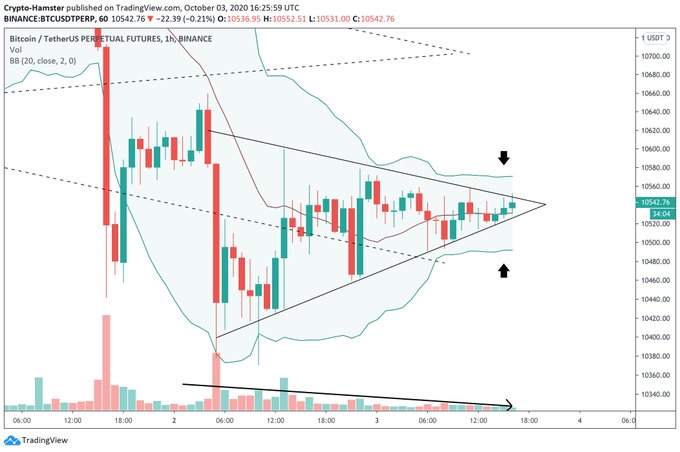 Chart of BTC's price action over the past few days with an analysis by crypto trader CryptoHamster (@CryptoHamsterIO on Twitter). Chart from TradingView.com
Expect Upside, Analysts Say
Analysts are optimistic despite negative news that could push Bitcoin lower than it is now. Simon Dedic, a co-founder of crypto research firm Blockfyre, recently stated:
"Once you understand media is nothing but a powerful market manipulator, you can start countertrading it. Non-reflecting people panic dump with fear radiating news, smart people make bank on it. Buying every dip of $BTC & $ETH, FA hasn't changed. What type of person are you?" 
This was echoed by Willy Woo, a prominent Bitcoin analyst known for tracking on-chain trends.
Woo has recently asserted that BTC is primed to pop higher, even in the face of the aforementioned news events. A reason why he is so optimistic about Bitcoin is that there has been a spike in coins that have changed hands, which often takes place when BTC is at a medium-term turning point.
For instance, prior to the surge in July, a spike of coins changed hands, driving Bitcoin higher.
Featured image from Shutterstock
Price tags: xbtusd, btcusd, btcusdt
Charts from TradingView.com
These 3 Trends Show Bitcoin Is Primed to See a Strong Breakout